Gain a solid understanding of the differences between lean and agile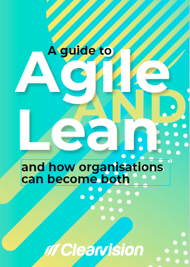 This white paper aims to help IT professionals better understand agile and lean concepts, providing a framework for initiating real change within organisations.
Covered in this whitepaper:
Introduction
The Evolution Of Agile And Lean
Understanding The Differences Between Lean And Agile
Why Implementing A Set Of Practices Doesn't Make You Agile
Building An Agile-Lean Transformation Initiative
Conclusion
Gain insight into the Blended Agile Toolkit (BAD Toolkit), a business responsible for providing organisations with a powerful agile framework. Plus, learn about the solutions offered by Clearvision through their expertise, support and more.
Download this Whitepaper