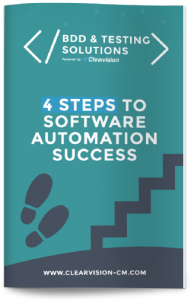 Automated software testing involves conducting specific automated tests used in the continuous delivery of software.
Automated testing tools can be used at every stage of the software development lifecycle (SDLC), this often involves continuous regression testing which is often employed during the SDLC to test that new code still works as expected. This promotes continuous delivery and effective DevOps enabling software to be released faster and more often with fewer mistakes.
Test automation is critical for continuous delivery and continuous testing. But questions about which tests to automate, which should remain manual and what pitfalls to watch out for.
Covered in this whitepaper:
Identify Your Requirements
Automation tools allow your testing team to run tests quickly and repeatedly. The tools manage test execution, report outcomes and compare results with earlier test runs.
Step 2 – Identify Your Procedures
There is no point trying to automate your testing scripts unless you know clearly what they should be. The tools you choose may influence the procedures you adopt, and vice versa.
Step 3 – Identify Your Tools
Automated software testing typically gets underway when your testing team has reached its capacity. At this point, you have two alternatives: grow the manual testing team or begin evaluating software testing solutions to help automate your process.
Step 4 – Phase the Implementation
Once you've decided on the right automation tool, create a test automation framework that phases the implementation. Remember, it will take several attempts to get it right. As in any project, it will be vital to act on feedback from early users.
Make things much easier with this 4 Steps to Software Automation Success guide.
Download Today