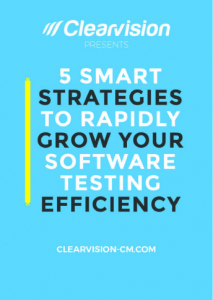 A free guide from Clearvision
If you've ever stood in a demonstration where the product owner has said "That's not what I wanted!", then you know the stress caused from worrying about about how much time you're going to waste fixing it.
This guide explores:
Unite "The Three Amigos"
One concept that is proving to be very powerful is the "Three Amigos": The Three Amigos in this concept are Testers, Developers and the Product Owners.
Take the Behaviour Driven Development (BDD) Challenge
Not having a unified understanding of the goal sucks. Especially if we don't know why we're in conflict.
Forget Failure. What Matters is How You Fail
Let's be honest: You're reading this because efficient software development isn't quite working for your team.
Create a "Single Source of Truth" with Jira
Collaboration saves time and money! If you have a single source of truth for your software requirements, then they'll no longer be open to interpretation.
Optimise Your Exploratory Testing
While test automation provides fast feedback to developers and saves time for testers, it can;t catch every bug.
This guide will help you find the perfect way to improve communication in your testing lifecycle, and make better products today!
Download Today