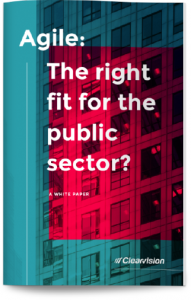 Adapt and respond quickly to changing priorities.
A introduction to agile for The public sector. Enabling teams to collaborate effectively and respond quickly to change, and finding success through digital transformation.
Agile working allows teams to adapt and respond to changing priorities. Iterative methods of development and release,
whether it's software, processes, or initiatives, mean organizations can deliver results quicker, and improve quality faster by learning from real life implementations.
We'll cover:
The challenges of the public sector
The benefits of agile working
How to implement and get the best out of tooling to support agile working
Importance of transparency
In this whitepaper, we'll be taking a look at the challenges faced in the public sector, exploring how a combination of the right agile culture and agile-friendly software is the key to success and meeting user needs.
Download Now