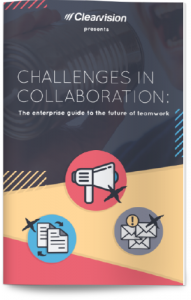 The enterprise guide to the future of teamwork.
Enterprise Collaboration, process adoption, going agile – these are just some of the challenges discussed in this white paper. Following a survey carried out at Atlassian Summit the Clearvision team offers some insight and advice on these challenges and more.
This whitepaper covers:
Disparate Teams - Is distance causing delays?
Silos of information and in decision making
Too many emails and meetings
Scaling
Tool Integrations
Resource Planning
Plus much more...
In this white paper, we break down the results of our survey to uncover the biggest challenges enterprise businesses are facing, and offer suggestions on how to solve them.
Download Today