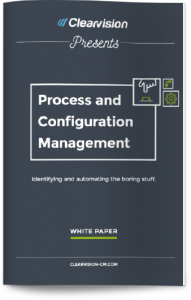 What is configuration management and why is it important?
Understand your processes and improve productivity with this free white paper from Clearvision.
This whitepaper covers:
Introduction
A bit of history
What is process and configuration management?
Manual procedures vs. automation
How to introduce automation
Which tool?
In this whitepaper we'll define what process and configuration management is, explore how you can introduce automation and how you should go about selecting the right tools for the job.
Download Now