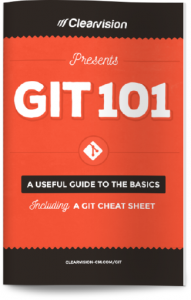 Git 101 - a useful guide to the basics.
The simple Git for beginners guide will give you everything you need to get started – including the following sections plus a comprehensive cheat sheet.
Many of the world's largest dev teams have adopted Git and it's not hard to see why –
It can handle small and large projects easily
It has a tiny footprint
It outclasses other version control tools
It's simple to learn
We'll take that last bullet with a pinch of salt…Git 101 is designed to give you all the basics of git in 15 minutes, through a combination of this tutorial, and the accompanying cheat sheet, you should have everything you need to start learning to use Git.
This tutorial walks through how to create a new Git repository, make changes to it, and keep track of changes.
Download this Whitepaper Today