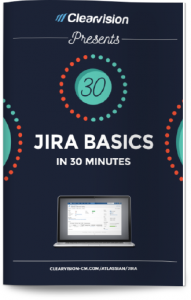 Jira Guide for Beginners
The Jira basics White Paper will give you all you need to get started quickly with the world's favourite issue tracking tool. Through our experience running JIRA training courses we know what users like you, who are new to the software, need to get started.
This whitepaper has one simple aim; to give you the guidance you need to get started with JIRA in 30 minutes.
This guide is just focused on the important bits that will allow you to get started - you'll pick up the rest as you start using JIRA. This whitepaper will give you enough to get started, but we recommend a JIRA course to truly get to grips with all the features and functionality that JIRA will bring to you and your organisation. We run courses ranging from 'basic' to 'admin'.
From advanced searching to creating and managing projects, there's a lot to explore, but this whitepaper will give you more than enough to get going with the essential stuff!
Download Today