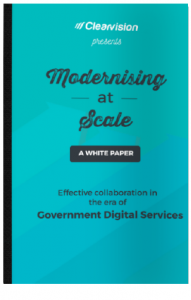 Effective Collaboration in the Era of GDS Agile Thinking
With the digital transformation of government, public sector organisations need to embrace GDS agile thinking that will help them save time and money. In this white paper, we're sharing some of the lessons from our work with a variety of government bodies. Learn how to modernise and collaborate more effectively.
In this whitepaper:
Examine what the digital transformation of government means for public sector organisations
Take a look at some of the biggest challenges facing government ICT
Set out steps to tackle the challenges by improving collaboration with Atlassian tools
Identify the underlying causes of these challenges to prevent them recurring in the future
Public sector organisations should embrace the tools and services available to them to help them make the quickest gains and save the most time and money in the procurement process. As the leading Atlassian Experts on G-Cloud, Clearvision has worked with a number of government bodies to modernise their tools and processes and boost collaboration.
This white paper shares some of what we've learnt.
Download Today