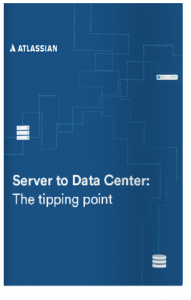 A free guide from Atlassian.
This white paper from Atlassian sets out everything you need to know about scaling Atlassian applications with Data Center. This in depth white paper will help you refine your strategy for scaling your tools alongside your teams.
Covered in this whitepaper:
Scaling Atlassian applications
The tipping point
What is Data Center?
Prepare, plan, execute
Refine
Hear it from our customers
What's new in Data Center
At some point in your Atlassian journey you'll likely find yourself needing to scale your Atlassian applications to a wider group in your organisation. Keep in mind that there is no 'one-size-fits-all' approach to scaling Atlassian applications. Each organisation, and team, has different processes, workflows and needs.
This whitepaper provides some high-level guidelines for determining growth and creating internal governance before taking the final step in scaling Atlassian: providing true high availability and building a more robust infrastructure to support uptime and performance needs.
Download and scale your Atlassian applications today!