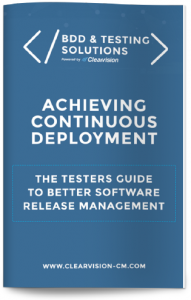 The testers guide to better software release management...
"As a software tester, how often have you been confronted with the issue of being left with no time to properly test a piece of software due to the pressure of reaching increasingly tighter release deadlines?"

Explore the importance of continuous deployment for software development in this short guide to achieving continuous deployment. In this guide we run through the common pitfalls on the road to continuous deployment, as well as a detailed step-by-step guide that you can adapt to fit your teams specific needs!
Common challenges to uncover and overcome:
Poor communication
Lack of automation
The wrong tools
Benefit from continuous deployment - Download our guide today!