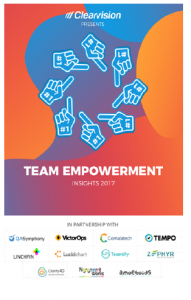 Empowering teams to reach their full potential.
In this whitepaper we're bringing together leading voices in the collaborative software industry, to present you with a comprehensive overview of ways to approach collaboration and teamwork.
What you'll learn:
How Do You Solve A Problem Like People?
Managing Agile Efficiently With Distributed Teams
Collaboration In A New York Minute
Right People, Wrong System?
How Visuals Power Team Collaboration
Context Through Coupling: Jira For On-call Teams
How Next-gen ALM Tools Are Promoting Collaboration
Secure Intranet In Times Of Cloud Services
Cracking The Code Of High Performance Teamwork
The Rise Of Modern Collaborative Performance Management
What Your Future Self Wants To Know (Clarity4d)
Hacking Team Collaboration
From technology to work methodologies, this collection covers everything you need to identify the right combination of software and culture to truly empower your teams.
Explore Further - Download the Full Whitepaper