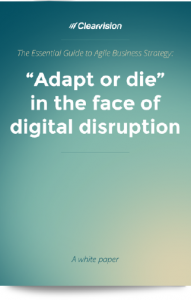 Adapt or die in the face of digital disruption.
We see digital disruption in the news every day, from Uber to Tinder – disruption is now synonymous with Silicon Valley and the most successful of tech businesses. With advances in technology disrupting traditional business practices, it's more essential than ever for a business strategy to allow itself the room to adapt and adopt the tools and practices of this new digital age.
This whitepaper will:
Break down your business strategy into clear areas for consideration
Suggest approaches for agile adoption and adaptations
Outline the importance of aligning your business culture with tools
Provide exclusive insights from industry thought leaders
At Clearvision, we're agile experts. We've helped cutting edge companies like Tinder, RBS and P&G make the most of their tools and teams.
With this whitepaper, we'll be guiding you through how to incorporate the latest tech into your business strategy, as well as sharing the lessons our years of experience and Atlassian Expert status have given us.
Download Now