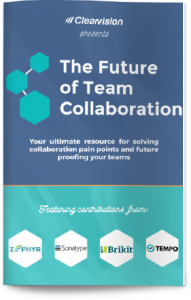 Your ultimate resource for solving collaboration pain points and future proofing your teams.
Collaboration tips from the experts – content from Clearvision, Brikit, Sonatype, Tempo and Zephyr.
Did you know? When surveyed, enterprise businesses consistantly cited collaboration as thier biggest challenge.
This whitepaper gives you:
Advice and guidance on collaborative trends
Techniques on transforming your teams to achieve better collaboration
Tips on how to get the most out of collaborative tools from the experts who build them
This whitepaper covers:
Challenges in collaboration
How the world tests
Ten habits that create a culture of collaboration
How to get InfoSec and Legal Teams invited to the DevOps table
Connecting distributed teams
With this whitepaper, you can get the edge over your competition. Download today and make sure your teams are at the forefront of the future of teamwork and collaboration!
Download Now