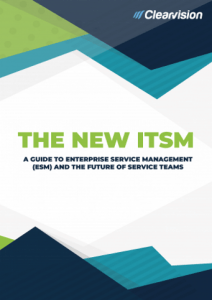 The ITSM landscape of 2019 and beyond, is set to look very different.
This white paper will provide an insight into what the future holds for the people who manage service, regardless of the department they're in.
This whitepaper covers:
Setting the Scene: ITSM of yesterday
Changing perspectives: How-to-why
The rise of enterprise service management (ESM)
Which departments can benefit most from ESM?
The problem with using ITSM tools for ESM
Back-to-basics
Conclusion
How Clearvision can help
It will also explain how they can take advantage of the interesting new direction that the industry is headed in.
Download Today