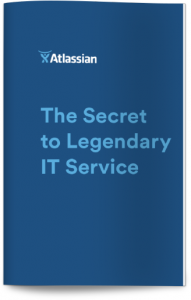 A whitepaper from Atlassian
The team at Atlassian share their secrets to legendary IT service. Covering service to customers, internal IT support, and even how to scale services beyond IT, this whitepaper will give you all you need to take your IT services to the next level.
What's inside?
Introduction: The Service Triple Threat
Chapter 1: Helping Customers Succeed
Chapter 2: The IT Service Desk
Chapter 3: Streamlining Service Management Across the Enterprise
Conclusion: Always Innovate
Epilogue: About Atlassian
If there's one key to making your service organisation legendary, it's innovation. When you're constantly working on a queue it can be very demoralising, because a queue never ends.
Read More - Download This Whitepaper Today