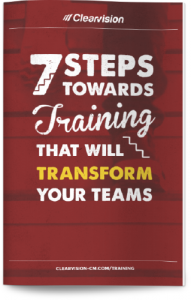 A visual and easy to digest introduction to the latest and most effective training techniques and methodologies for teams.
This whitepaper will equip you with the knowledge to transform your teams through providing an in depth understanding of your own requirements and skills gap analysis checklist. Whether you're onboarding new talent, migrating to a new tool or adopting new processes, your teams will be experts – and stay experts – with minimum disruption to your business.
This whitepaper covers:
Pre-training
Skills gap analysis
The practicalities
Methodologies
Structure
Participation
Post-training
Checklist
7 Steps to training that will transform your teams will provide you with in depth knowledge of the latest training structures, techniques and methodologies.